One Big Beautiful Home
We've been helping UK households stay safe from germs for almost 100 years, with our range of beautifully fragranced, perfumer developed concentrated disinfectants. 
Zoflora is your perfect partner for a hygienically clean home or business. Our 3-in-1 action formula kills 99.9% of bacteria and viruses that can cause illness and create bad odours, as well as filling your home with a beautiful long-lasting fragrance for at least 24 hours.
Kills 99.9% of bacteria and viruses


Does Zoflora kill Coronavirus?
Yes! We can confirm that Zoflora has been laboratory tested and proven to kill coronaviruses, including the COVID-19 virus (SARS-CoV-2), and conforms to the latest British standard BS EN14476:2013+A2:2019 relating to the virucidal activity of chemical disinfectants, when used at 1:40 dilution with a 1 minute contact time.
A fragrance for every room
Wherever you take the fight to dirt and germs, take Zoflora with you. It's multi-room, multi-use, and on your side.
A little goes a long way!
Top tips for using Zoflora effectively and safely throughout your home.
Find your new favourite fragrance
From crisp and breezy Linen Fresh to rich and sensual Midnight Blooms and everything in between, you'll find them all here.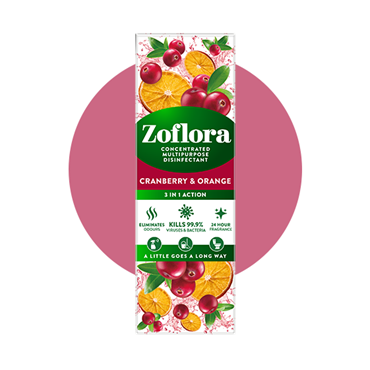 Cranberry & Orange
Cranberry & Orange is a sweet and refreshing fragrance, bursting with juicy cranberry and citrus notes. A festive, fruity combination!
A refreshing, warming blend of Mediterranean fig and cassis, blended with wild shrubs and bergamot on a base of cedarwood.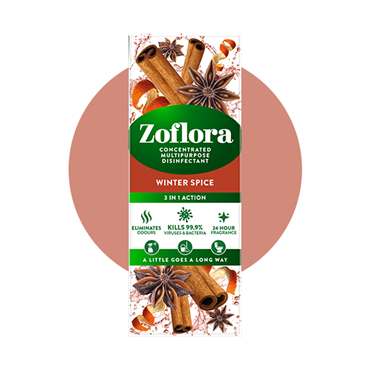 Winter Spice
Winter Spice is a seasonal fragrance combining warming cinnamon and cloves, with orange and vanilla. A sweet and spicy blend for a welcoming winter home.
A tropical medley, combining coconut and lime with hints of pineapple, mint and vanilla.
Recreate the blossoming of spring flowers throughout your home with fresh herbs and citrus.
Let Summer Breeze blow through your home, with classic blooms of peony, freesia and rose.
Does Zoflora conform to UK EN testing standards for disinfectants?
Zoflora has been tested independently to adhere to the following EN standards required for chemical antiseptics and disinfectants. Individual dilution quantities and contact rates apply for specific bacteria and viruses.
Join us on social
Follow us for exclusive content, top tips and more.
Explore our stockists
Which Zoflora fragrances do you have in your collection? Which are you yet to try? Whether you prefer to stick to your favourites or love to discover new ones, use our stockist finder to track them down at your nearest store.