What you'll need to disinfect your cloths and sponges
A bottle of Zoflora 3-in-1 concentrated multipurpose disinfectant
Step 1: Squeeze all the moisture from the cloths and cleaning sponges
First of all, you'll need to extract any moisture from your cleaning tools. Squeeze the sponges and cloths to rid them of any residual moisture. 
This set-up clears the path for Zoflora's cleaning properties to penetrate deeply into the cloths and sponges for a hygienic clean - plus, the washing up bowl used in the next step won't become filled with dirty water when you come to soak them.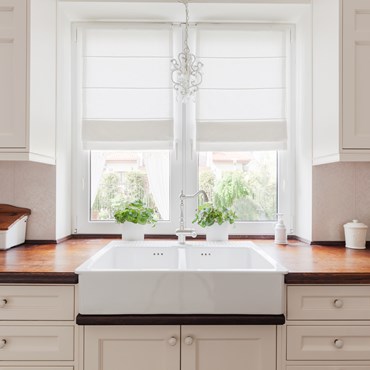 Step 2: Fill the sink with water
In order to give your cleaning tools a thorough clean, you're going to want to soak them overnight. so start by filling your sink or washing-up bowl with water.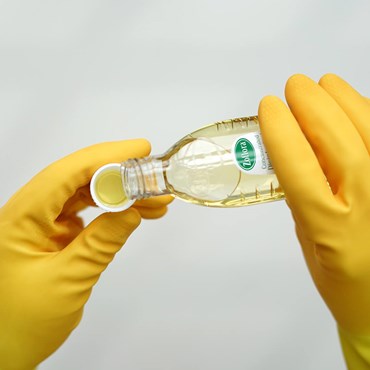 Step 3: Add Zoflora to the sink
Now that the sink is filled, it's time to add Zoflora. In terms of measurement, add one capful of neat Zoflora to every 400ml of water present. Wear rubber gloves when handling neat Zoflora to avoid skin irritation on contact. 
It's also important to note you should never mix Zoflora with other cleaning products.
Step 4: Leave the sponges and cloths to soak
Soaking is the final stage of the process. Place your cleaning sponges and cloths in the diluted Zoflora, wearing your rubber gloves, and leave them to disinfect for at least 5 minutes, or even overnight. Upon returning to the sink in the morning, your cloths and sponges will be hygienically clean, fragrantly fresh and ready to use for the day ahead. 
The soaking process will also leave a beautiful fragrance in your space, which is sure to brighten up your morning. There are a number of fragrances to choose from - if you're after something refreshing, then the crisp notes of Frosted Peppermint might suit you, or for something more relaxing, try the soothing scents of Lavender. 
Whether it's the bathroom, kitchen or car interiors, Zoflora can be used as an effective household disinfectant across lots of surfaces inside and outside the home.
Important information when using Zoflora
Do not mix with other cleaning products

Do not spray directly onto or near to open flames or electronic devices

Exclude all pets from the area until dry

Do not use on polished wood, painted, varnished or composite granite surfaces